Deck Waterproofing Harrisburg, PA
Deck is a great place to relax and enjoy the outdoors but if it's not properly waterproofed, you could be facing some serious water damage. That's where we come in – Deck Builder Harrisburg PA can waterproof your deck and keep it looking great for years to come.
We use only the best products and techniques to waterproof your deck, so you can rest easy knowing it's in good hands. We also offer staining, sealing, refinishing and cleaning services, so you can keep your deck looking its best all year round.
Contact us today for a free consultation on waterproofing your deck!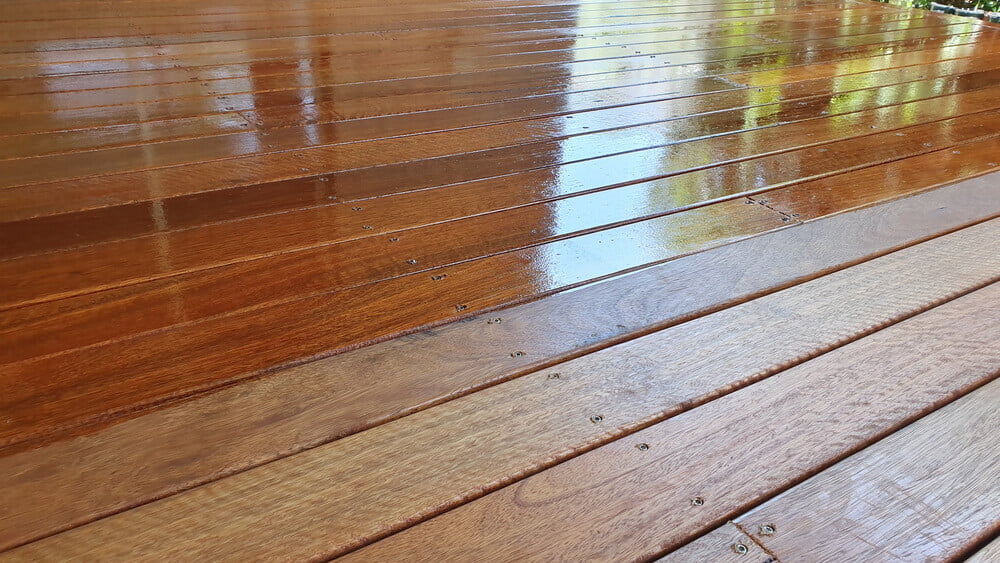 Harrisburg Waterproofing Contractor For Decks
The deck waterproofing process is a multi-step procedure that ensures your outdoor space is protected from the elements.
The first step in the process is to clean the area of dust and debris, making sure it's free of any dirt or grime. Once the surface has been thoroughly cleaned, it's time to apply a primer. Primer will ensure that the deck's surface is ready for further waterproofing treatments and can help prevent any water from seeping into the wood.
Next, it's time to apply a substance called elastomeric coating or deck sealant. This product will create a seamless barrier between your deck boards and the elements. It's important to apply the sealant evenly and allow it to dry fully before moving on to the next step.
The last step in the waterproofing process is to add a deck stain or paint, depending on your preference. Stain will provide an extra layer of protection while also enhancing the color of your outdoor space. Paint will provide a more decorative look but it will not be as durable as stain.
Why Choose Us for Deck Waterproofing?
Deck waterproofing is a critical aspect of deck maintenance. Whether you're looking to maintain an existing deck or build a new one, we are the right choice for the job.
All our products come with a lifetime guarantee and we use only best-in-class materials that make sure that your deck is protected from water damage for years to come. Look no further than us if you want reliable services at competitive prices.
Call For Any Deck Waterproofing Service!
If you require deck waterproofing contractor then call us now!
Deck Waterproofing Harrisburg, PA
Whether you have an existing deck or are building a new one, waterproofing is essential to keep your outdoor space safe and enjoyable. Waterproofing will help protect the structural integrity of your deck and prevent mold and mildew growth.
We specialize in providing top-notch waterproofing services for residents of Harrisburg, PA and the surrounding areas. We understand that waterproofing your deck is an important investment, so we strive to provide quality workmanship with every job.
Our experienced team can help you choose the right waterproofing solution for your situation. We offer a variety of products such as elastomeric coatings and water sealers, that can protect your deck from water damage. We can apply these products using the most effective techniques such as brushing and rolling, to ensure a uniform and reliable waterproof barrier.
We make sure that every deck waterproofing service is done right the first time so you don't have to worry about recurring problems or costly repairs down the line. We use high-quality materials and proven methods, so you can be sure that your deck will remain safe and dry for years to come.
If you're looking for reliable waterproofing services in Harrisburg, PA, call us today!
Deck Staining & Sealing
Deck staining is a process of applying a protective coating to a wood deck to protect it from weathering, moisture, and UV rays. It is important to regularly stain a wood deck to keep it in good condition and extend its lifespan.
There are different types of deck stains available, including oil-based, water-based, and semi-transparent. It is important to choose the right type of stain for your specific needs and the condition of your deck. Follow the manufacturer's instructions for application, as the process may vary depending on the type of stain used.
Yes, you can permanently seal a deck by using a sealant or coating that is specifically designed for wood decks. These products will penetrate into the wood fibers, creating a barrier that prevents moisture from entering the wood and causing rot or decay.
To permanently seal a deck, follow these steps:
Clean the deck: Use a pressure washer or scrub the deck with a deck cleaner to remove dirt, debris, and any stains. Allow the deck to dry completely.

Sand the deck: Use a medium grit sandpaper to smooth out any rough or splintered areas on the deck.

Repair any damage: Fill in any cracks or gaps with wood filler and smooth the surface with a putty knife.

Apply the sealant: Use a paintbrush or roller to apply the sealant according to the manufacturer's instructions. Be sure to cover all surfaces of the deck, including the edges and underside.

Allow the sealant to dry: Follow the manufacturer's drying time recommendations before walking on the deck or placing furniture on it.
By following these steps, you can permanently seal your deck and protect it from the elements for many years to come.
It is best to seal a deck in the late spring or early fall when the weather is not too hot or cold. This allows the sealer to properly cure and the temperature is not too extreme for the sealer to perform effectively. Additionally, make sure to wait until the deck is completely dry before applying the sealer.
The lifespan of a waterproofed deck will depend on the type of waterproofing used as well as other factors such as the condition of the wood and how much wear and tear it is subjected to.
Generally speaking, most waterproof coatings can last for up to 10 years with proper maintenance and care. Be sure to inspect your deck regularly and repair any damage that may occur to ensure that your deck's waterproofing lasts as long as possible.
Additionally, be sure to re-apply the waterproof coating every few years to help extend its life. With proper maintenance, you can enjoy a beautiful and functional waterproof deck for many years to come!